Today, digitally printed wallpapers offer more interior design opportunities than ever before.
Wall painting or wallpaper mounting are some of the inevitable works when moving in, renovating an office, home or commercial space. There are millions of paints, colours, textures. The same applies to traditional wallpapers. Patterns, textures, reliefs, different luminosity surfaces, and many many others. It is easy to go for it.
Nevertheless, even the best and most expensive of them cannot replace a large dramatic photo. A creative design image on the wall changes the overall space perception.
Generally, the custom wallpaper solutions are a trendy way to be special. The variety of textures is unlimited. Almost like at the traditional wallpapers. Even more, by digital printing, you can achieve unbelievable, one-of-a -kind effects. At the end, the restraint is only the amount of the designer's imagination. And it is always inspired by you!
What is different?
Above all, the flexibility offered by the digitally printed wallpapers is great. Because it allows you all of the followings:
– Choose your custom image at a mouse click from millions of photo libraries.
– Embed existing interior colours into your wall design.
– Choose at what width the wallpapers should be cut for mounting.
– Easily change the total interior impression by replacing the print again and again.
– Identify yourself with your company branding, preferred colour and pattern pallettes, with desired creative solutions.
Need help?
The specialized digital studios offer complete service – from assistance to find the best quality image to a complete wall design composition.
Furthermore, they will prepare and print your amazing photo on the best suited base material.  Finally, they will deliver it to you ready for mounting. You can then apply yourself or order the mounting immediately.
As a result, the vision of your space becomes incredibly noticeable. So it gets colourful and unique and the effect is always brilliantly stunning!
Pros and cons
First of all, make your decision easy. If you have to compare, here are some tips and facts:
| | | |
| --- | --- | --- |
| Comparing: | DIGITAL | CONVENTIONAL |
| Choice of design | Unlimited ++ | Limited – |
| Custom interior colours matching | Yes ++ | No – |
| Texture variety | Yes + | Large ++ |
| Base material variety | Standard | Standard |
| Ease of mounting | Easy + | Easy + |
| Variety of widths | Unlimited ++ | Strictly limited – |
| Durability | Good + | Good + |
| Repairability/ replacement | Reprintable  ++ | Only if still available – |
| Price | Affordable + | Fixed per type |
New digital wallpaper solutions:
Drawing-onto-wallpapers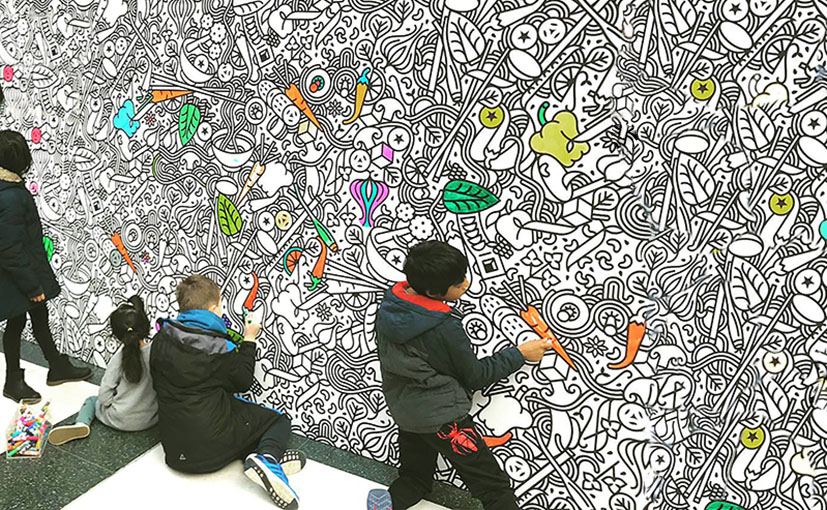 Wallpaper designs can serve not only beautiful decoration purposes. Besides this, they can also be a great tool and help in various environments.
Thus, they could offer unlimited possibilities – colouring, learning, discovering, playing and more.
Only by using digital printing techniques, you can get such a diversity. A world of of unbelievable interior solutions for any space. Because you can replace re-printed elements. So, you can have adapted and customized image content at any time.
Illustration examples
Consider the following drawing-onto wallpaper application cases: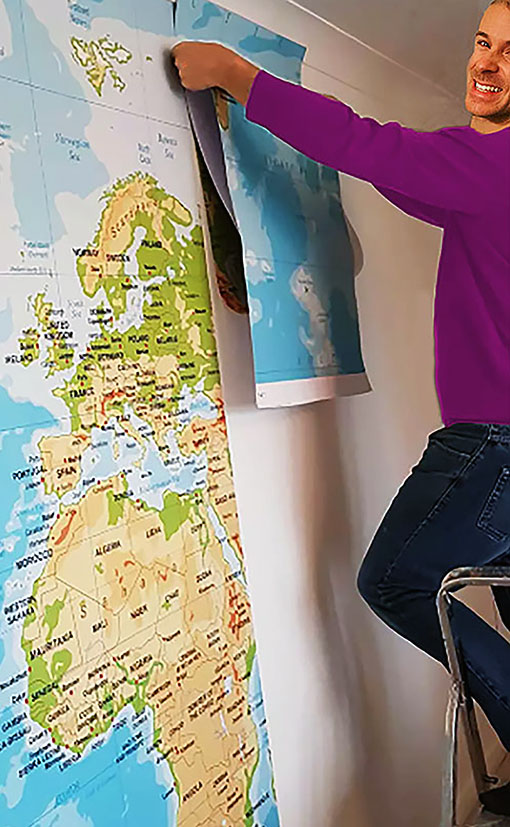 Maps – colouring countries and places.
Animals or flora – point at particular species or plants.
Language learning – drawing with different colours to specify words.  Visualize objects and /or their spelling for easy and repeated recognition.
Skills training and visual guiding through useful techniques
Sports and gymnastic techniques.
Touristic places – marking points of particular interest, like museums, hotels, food and entertainment places.
Construction plans – focusing onto parts of the scheme, eg architectural elements, parts, etc.
Road maps – colouring and marking specific itineraries.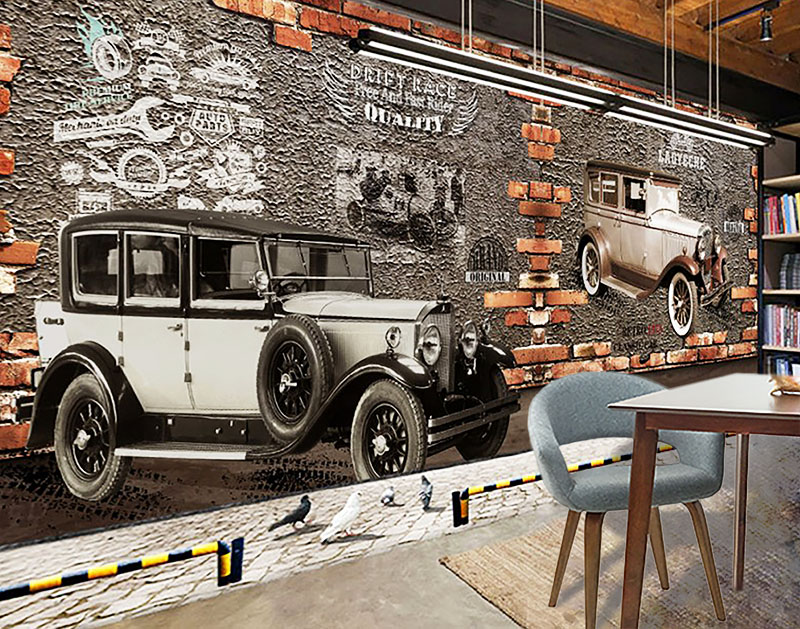 Design and re-print
It sounds fantastic, though a designer's job in some cases could be tough! Many elements have to be placed into a large-sized file. This will need more attention. Also a good focus on the details. In the end, the result deserves the efforts.
Still, the so prepared design can be easily modified afterward. You can change, add or remove elements. You can then re-apply certain parts of this large print.
Simply submit the updated image. After receiving the ready prints, follow the instructions for the application of the new wallpaper elements.
Additional effects
Make a wall design even more attractive.  Combine the digitally printed wallpaper with special relief and lighting solutions.
For example, you can have a company logo printed as a part of the overall design. Then, the logo can be emphasized by adding a 2D or 3D copy of it, LED back-light, etc. All this is possible by using the same digital vector image. It will be embedded into the print, as well as used for cutting the after effect.
Conclusion and guidance through the process
Based on the above facts, it seems worth to invest into an attractive digitally printed wallpapers project. No matter if it is for your office, retail or home space.
Day after day, wall murals are getting more and more popular everywhere. Just pick a wall and choose a nice image or composition. Then, let the digital printing specialists do the job for you. To make it easy, here are the basic and practical steps.  They will make your wish come true:
Measure the desired wall size. Place a note of the height and width of it. Take into consideration the proportion of these dimensions when you start looking for your design image.
Choose the image
If you already have an image idea in mind send this artwork with the price inquiry. As a rule, the file quality needs to be inspected before printing! As a matter of choice, you can browse for an image in one of the popular libraries like Deposit Photos or Shutterstock. So, you can make your best selection.
Contact the service provider to place your inquiry and follow the related guideline.