Today, many print shops are looking for high-quality print performance, in other words, to use more colours in their printing machine. For example, many digital screen printing professionals are looking towards the latest Roland printers with special colours included in their configuration.
To facilitate your choice, we are offering this product comparison between Roland VG3 and the earlier RF-640 8 colour printers. Indeed,  each of them is representing its distinct class. Here are the main points which always matter in demanding high-quality printing.
Comparing basic parameters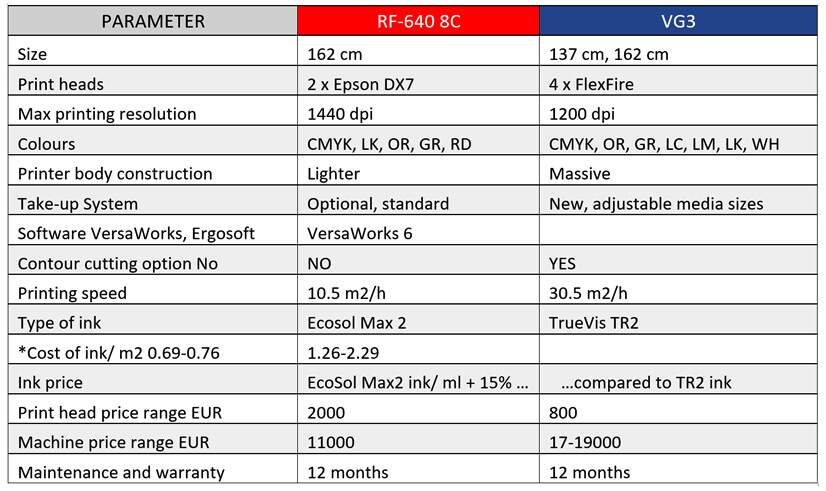 The following basic features review can help you consider which one suits better your large format printing needs:
VG3
This machine delivers the best quality ever for different jobs, from accurate brand colours and fine graphics to high-productivity runs. Further, it expands wider the gamut and output colour with smoother tone transitions. In this series, the  8-colour ink configurations offer even more colour choice.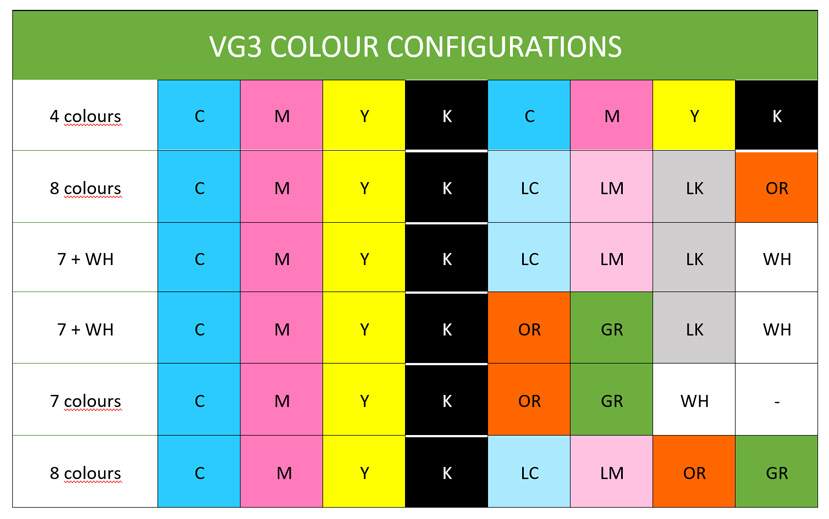 True Rich Color and TR2 Inks
As a GREENGUARD Gold certified ink, TR2 ink greatly increases your colour gamut. So it delivers a new, amazing colour output that distinguishes the final graphics apart. Thanks to the added Green and Orange inks in VersaWorks 6 and its new True Rich Color 3 preset, you achieve new colour tones. They include purples, reds, greens, and other intricate hues. The result is a brighter, more detailed colour throughout your print output.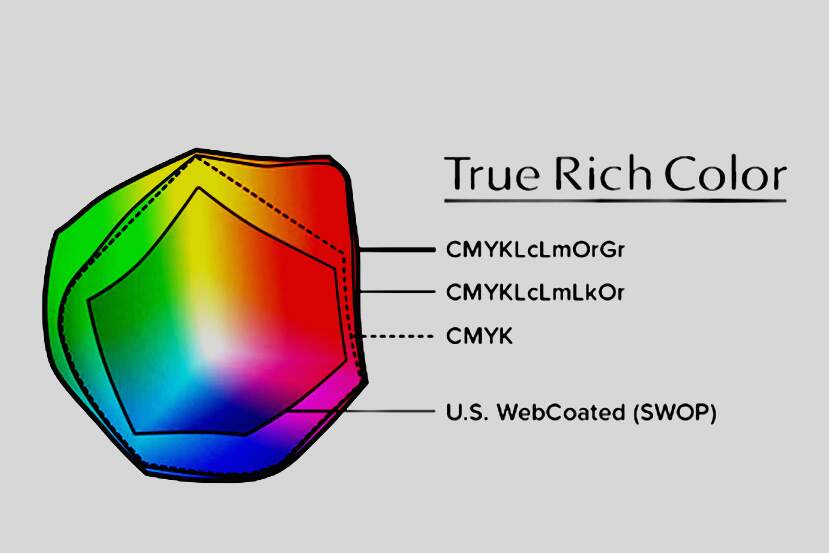 Finally, the four FlexFire printheads combine with other powerful print-and-cut features for the most accurate, colour-matched custom graphics.
User-friendly features for print & cut professionals
7-inch display touch panel for full operation control, like auto-calibration, and other intuitive, automated tools.
Automatic Media Gap Adjustment: Here, the media gap and feed compensation can be adjusted automatically with a single button. The TrueVIS VG3 uses a new optical registration method. In this way, it ensures print accuracy and avoids variations in output.
Improved media handling
Redesigned for stability, accuracy, fewer media skewing during printing.
Real-time view of ink levels, job status, print time, and print file.
Wider rear opening and one-touch media holder for quick and easy loading.
Adjustable take-up for using various media cores.
Easily handles take-up, sheet cutting, and other time-consuming operations.
Two modes for handling from thin to very heavy media.
Applications variety of VG3 series
Notably, the jobs vary from self-adhesive pressure-sensitive media, banners or canvas to personalized heat transfer applications. Therefore, the printer is the best addition to screen printing equipment for shorter runs of labels and decals too. The VG3 printer cutters are the most intuitive and efficient TrueVIS machines yet. Easy productivity combined with dynamic ink options, accurate color reproduction, and exceptional print and cut quality makes this the best choice for TrueVIS printing.
RF-640 8-colour
This Roland machine delivers unmatched photographic results too. Roland DG Intelligent Pass Control precisely places dots between passes and uses variable dot control to produce ink droplets of up to seven different sizes. The resulting high-resolution images combine with 8-color printing for unmatched photographic reproduction.

The RF-640 8-Color is designed to run all day without compromising performance or print quality. This applies to a wide range of coated and uncoated materials, vinyl, backlit film, canvas, and more for up to 3 years of outdoor durability. Its significantly larger gamut, particularly in Red, Green and Orange areas, enables perfect skin tones and super-smooth gradients even in high-speed modes. The machine provides more than super-accurate colour matching. With it, it is easy and convenient to exactly match and reproduce difficult colours.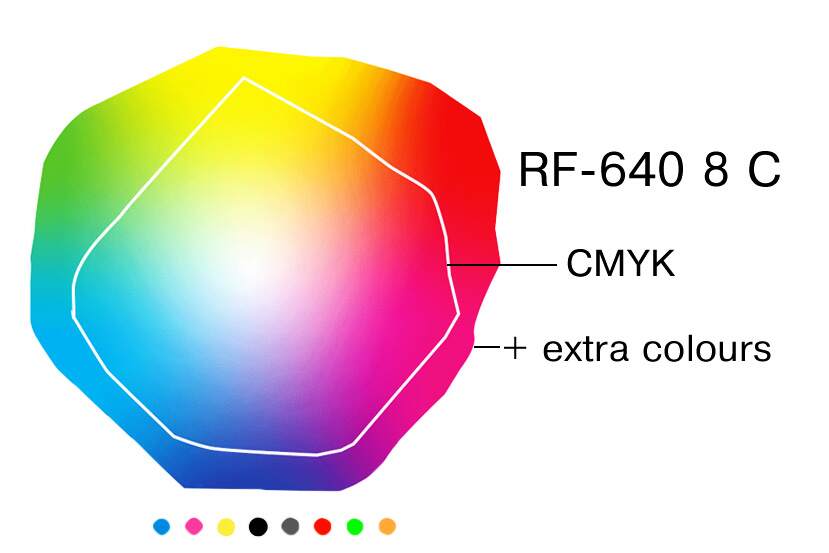 EcoSol Max2 ink
These GREENGUARD Gold-certified inks prints vibrant colours on a wide range of media with seven different droplets sizes. Even at high speeds, you achieve stunning results. High impact, chemical and mechanical resistant graphics on a wide range of media
Applications, RF-640 8C
Large format printing

apps:
RF-640 8  is equally suitable for posters, murals, backlit displays and signs, fine art, and high-resolution graphics. The printing materials include self-adhesive pressure-sensitive media, banners,  canvas.
Print & cut

applications:
Here, labels or

personalized heat transfer applications

can be performed using a parallel cutting machine. Best is a Roland cutter, integrated through the Roland software.  Then you will be able to prepare such digital transfer prints applied further using a heat press. Here, you are limited to producing such

transfers

or labels only on non-transparent media. This is because the machine does not use

white ink

for the purpose. Another possibility for such jobs is applying a

screen printing

layer of white ink after the

digital print

is ready.
VersaWorks software for both machines
Improved speed and file handling with HARLEQUIN RIP dual-core engine and 64-bit native processing.
Five print queues, five hot folders, and unlimited queue settings.
Built-in spot color libraries include Pantone and Roland DG Color libraries.
Final assumptions
In summary, both printer types VG3 and RF-640 8c bring fantastic photorealistic prints. Above all, the VG3 series are stable, highly productive machines with print& cut functions and an extra vivid colour gamut. Next to this, RF-640 8-Colour printer has excellent quality but lower speed.  But it lacks a combined cutting feature and is more suitable for an art studio environment where high-speed runs are not the point.
* Check also the alternative ink solutions for nearly the same excellent results.