Pretreatment machines from a proven leader, the Schultze PretreatMaker 5 series are a new brilliant product. In fact, they are an addition to the company's successful line of preparation equipment for direct printing on textile. As such, Schutze PretreatMaker 5 and PretreatMaker 5 Max provide perfect quality and consistency. Finally, they deliver always good spray results for brilliant colors, sharp details, and excellent washability. As a result, your final product is impeccable.
New features
Improved pump technology for stable and constant pump pressure performance.
Improved motor control for quiet and virtually noiseless operation.
Added more custom spray presets.
Precision spraying: Fine, improved adjustment of the sprayed area.
Minimized costs
Important to note, Schultze PretreatMaker 5 series save up to 30%of your pretreatment liquid. To make it user-friendly, a perfect overview of the status of all important maintenance functions is available. Further, smart maintenance notifications warn and remind you to perform important maintenance operations. In this way, you receive full maintenance control. Also, the machine offers digital level monitoring of the machine tanks.
Automated workflow
Auto start-up and shut down routine with nozzle check.
Scan-to-Spray barcode feature.
Barcode generator to make your workflow simple and smooth.
Improved automatic pump cleaning.
As a result, Schutze PretreatMaker 5 and PretreatMaker 5 Max perform with less downtime and more spraying time. Additionally, you always have a perfect overview of the status of all important maintenance functions. Furthermore, smart service notifications remind you to perform important operations. Also, there is a digital level for monitoring all tanks.  So, it makes the process easy and smooth due to the full performance control.
New elegant design
This series brings a comfortable large 7-inch touchscreen and intuitive user interface outfit.  An innovative button provides touch-free control. Further, a 3-colour LED lamp gives information on the machine's status. The machines have improved construction, so they are easy to clean and operate.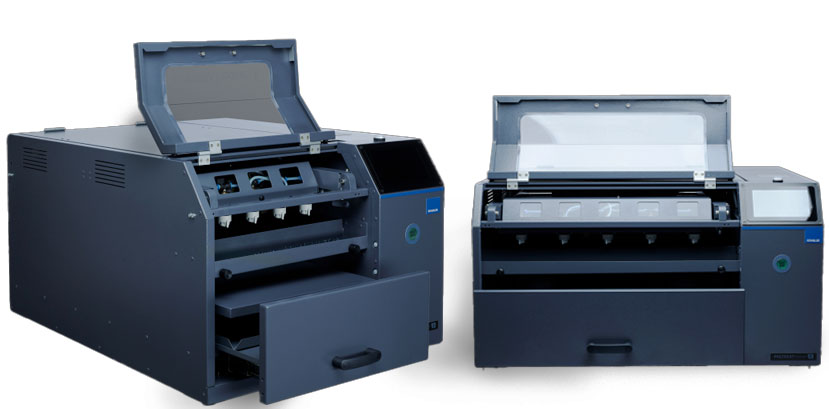 Warranty
In order to offer you safe work, the machines of the Schultze PretreatMaker 5 series come with a 12-months warranty. Please note, it is valid only when used with manufacturer-tested consumables solutions.
Here are the approved pretreatment liquids:
Distilled Water
Brother GT-3 Pretreatment Series
GC-30P20A, GC-30P5KA, GC-30PZH
Brother GTX Pretreatment Series GCX-4P04, GCX-4P20, GCX-4P2H
Brother BGCX40PS2HK0032 Series
Epson Pretreatment T43R1 Series
DMS-DTG6P POLY PRETREAT Series
DuPontTM Artistri® Pretreatment 5001/5002 Series
Ricoh/Anajet PowerBright Pretreatment/ MPI-PRE Series
Check the PretreatMaker 5 series brochure for more details.