MDX-50 – a precision device for industry and education
The Roland MDX-50 CNC mill is an ideal stand-alone modelling solution. Particularly, for the production of short runs, prototypes and pre-production models and final samples. The MDX-50 is also an effective complementary technology to 3D printing. Not only it delivers incredible mechanical accuracy (up to 0.01mm), and a  smooth surface finishes, but also it is compatible with a huge range of materials.
Notably, the MDX-50 desktop milling device combines more advantages. First, precise, automated milling. Then, unmatched ease-of-use and intuitive CAM software. So, it is best for professional, industrial and educational applications too. In addition, comes the new automatic tool changer (ATC). Furthermore, a built-in control panel increased machining area and operating speed to reduce operation time and simplify production.
The above ensures incredible quality and mechanical accuracy on a wide range of materials.

Unattended production – more freedom and time
MDX-50 offers a large range of automated features. So, it  enables users to mill even while away from the device:
The automatic tool changer allows unattended operation 24 hours a day.
Auto-sensing function corrects the tool length for perfect milling
accuracy.
An optional rotary axis allows effortless production using
complex surfaces:
-Auto-rotation of materials between 0-to-360 degrees
-Indexes for 2-sided, 4-sided and custom angles
-Increases production speed
ATC and optional rotary axis unit bring complete, unattended operation.
Intuitive software – exceptional results at easy operation
The MDX-50's simple but powerful built-in control panel, virtual control panel (VPanel), and included SRP Player CAM software represent the ideal milling solution for engineers, professionals, students, etc.
Using the control panel at the front of the unit, virtually any operation can be completed from the unit itself. Even without having to go back to the computer. Moreover, the VPanel interface allows the operator to make changes to spindle rotation or speed during operation.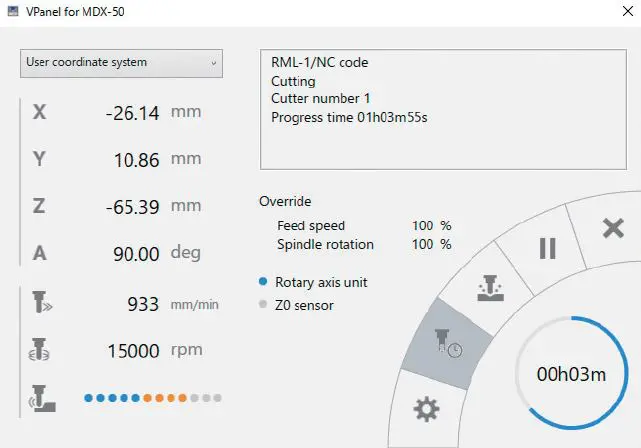 Improved performance
The MDX-50 milling machine increases performance with an expanded machining area (400 (X) x 305 (Y) x 135 (Z) mm). And also with increased operating speeds (thanks to a faster feed rate). Besides reducing production time. First, with faster job processing. Furthermore, using an automatic tool changer for continuous operation. In addition, MDX-50 comes with convenient CAM software and does not require additional air compressor equipment.
Precision milling on a many materials
The MDX-50 precision model making device provides exceptional quality. Such as smooth finish on a wide variety of woods, resins like modelling wax, chemical wood, plywood, ABS, POM, nylon, plastic foam, hardwood and more. In addition, the machine creates prototypes, precisely matching the original.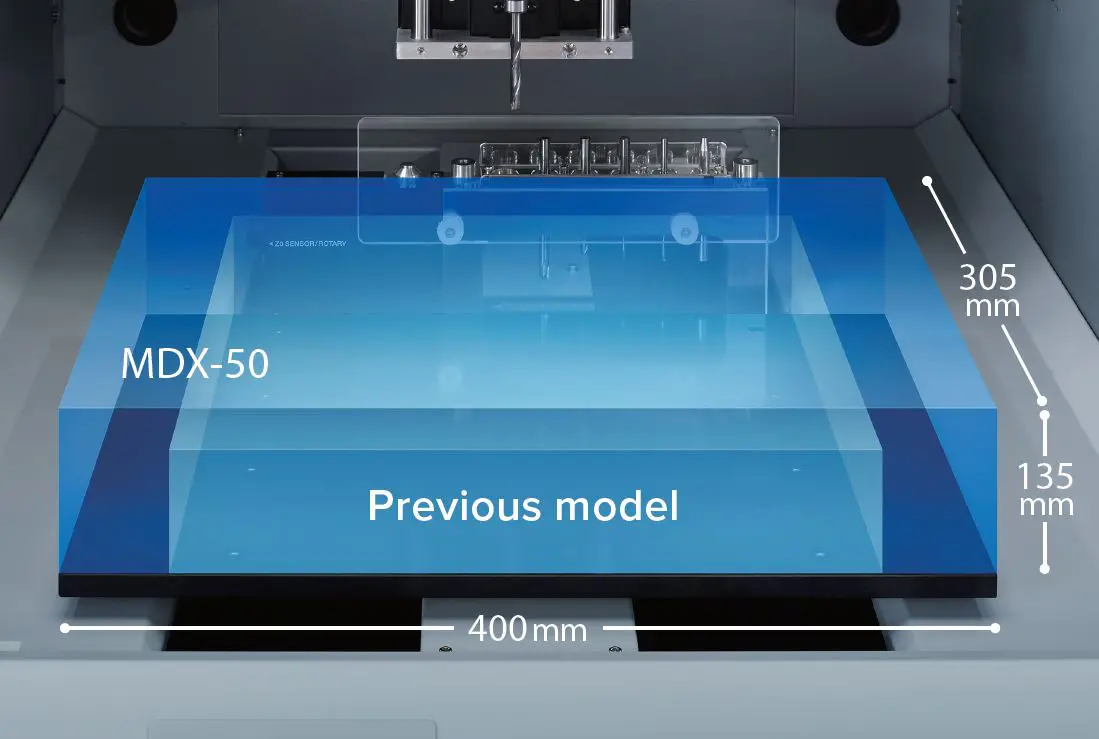 At working area of 400 (X) x 305 (Y) x 135 (Z) mm, the powerful 3D milling device produces single objects or multiple prototypes:
Snap-fit parts
Fixtures
Vacuum-formed moulds
Industrial plates
Electrical componets parts
Jewellery & accessories
Plaques and graphics with relief
Model and game objects and parts
Safe, clean and convenient production
Above all, MDX-50 provides a safe and trouble-free operation. Due to this, it is ideal for use in a studio and educational environment. Thanks to its cover, the machine's operation is safe. Also, waste accumulates in the new integrated dust tray. In this way, the working environment remains cleaner than ever. Also, colour-coded LED status lights and the illuminated work area makes mounting materials easier and safer.
Maximum reliability and support
The MDX-50 comes with a comprehensive manufacturer's RolandCare warranty, backed by the traditional Roland excellent support.
Modela MDX-50 additional features
ClickMill software gives direct control of the MDX-50 for
surfacing, drilling holes, cutting pockets and various finishing
works, all without using CAD CAM software.
Furthermore, the platform offers G-code NC programming language support. For this reason, it is equally suitable for professional, industrial and educational applications.
For full machine specificationsand any additional details follow the link or contact us here.