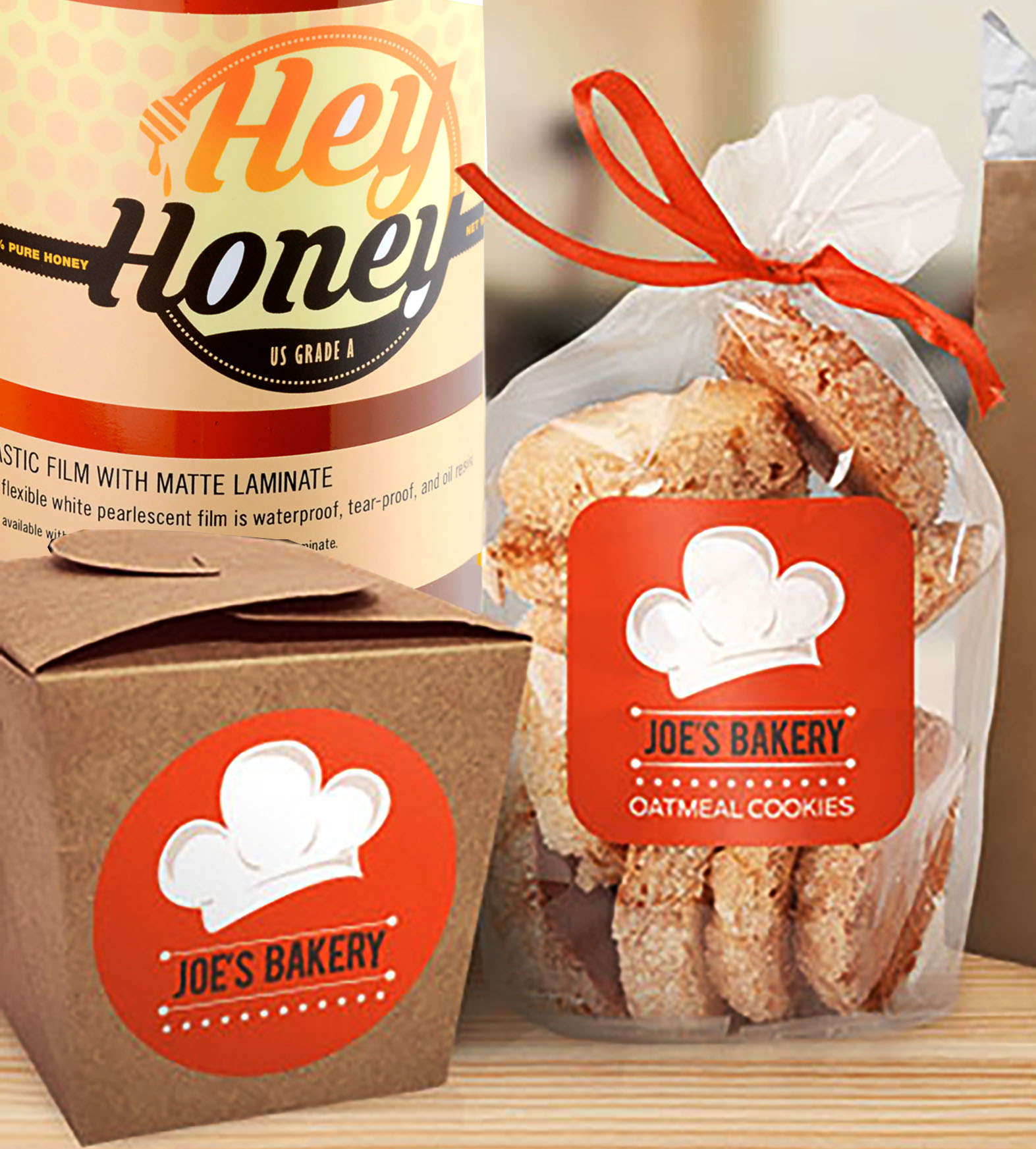 Personalize your labels. In this way, you can:
Promote a packed product, place a sign, decorate event and other items.
Good quality materials Print self-adhesive labels of custom shape & size, permanent or removable.Besides the vibrant colours, these labels are long-lasting and easy to apply. Thus, labeling your products or packaging is quick and effortless. The finish of our labels can be glossy, matt or luster. All is up to your choice and the label's purpose. You can choose from a variety of PVC films: White, transparent, gold or silver metallic, holographic effect film, and more. Free shipping within EU, free online sample proofs, fastest ordering cycle. Obviously, the packaging and label bring extra value to a product. Even high-quality merchandise can be difficult to sell if its outlook design is rather poor. The digital print&cut technology helps us to print the most intricate label designs ideas. Send your layout file. In no time you will receive the free sample online. We can also send you the sample for revision by courier. Then, after the proof confirmation, your order will be ready, usually in less than 5 working days.
Heat transfer logos & design
Heat transfer signs are another product based on the digital /and screen/ elaboration method. The decorative designs are delivered ready to be applied onto textile or other substrates. In this way, a T-shirt, a cap, a club garment or fashion item, become attractive and unique.
There are several ways to produce high quality, durable and wash resistant signs and tags. The major factors taken into consideration are:
The complexity of design and shape
Colour gamut
Base material
Number of pieces
Required production time
For your further information, here are the types of technology used:
DST heat transfers /digital-screen printed/ – 4 colour
Plotter cut flock, flex – single colour
Print&cut flex, 4 colour.
*We can also deliver screen printed heat transfers in large volumes.
Samples
Pre-defined single colours must be specified by the customer. We can send samples for approval by courier too. Samples are available and sent online. After confirmation, we deliver your heat transfer label production in the agreed timeline, usually within 10 working days, depending on job volume.